Shear Comfort Tall Slipper Boot

(SC204)
The Shear Comfort Tall Slipper Boot ( made from HiTemp UR Medical Sheepskin with AirTec) has been designed for people with leg vascular problems and for those at risk of developing leg ulcers. AirTec is a special array of holes in the sheepskin leather that promotes air circulation around the enclosed foot and leg.
This Merino wool sheepskin readily:
reduces pressure
absorbs moisture
promotes air circulation- enhanced by the AirTec treatment
regulates body temperature
The open toe design allows for toe separation and inspection without removing the boot.
Five velcro closures allow for complete control; allowing for compression bandages and support hosiery. Can be worn in bed, chair, wheelchair or when walking around indoors.
The Tall Slipper Booth as a soft suede sole.
Sold in pairs.
Click wash for washing instructions.
Sizes: Small, Medium, Large
SIZE CHART (US/CAN)

MENS

WOMENS

SMALL

6-7

7-8

MEDIUM

8-9

9-10

LARGE

10-11

11-12
To order, click Tall Slipper Boot image above.
CARE:
This Shear Comfort product is machine washable in an approved Sheepskin Shampoo & Conditioner. We recommend that you use Woolskin: Sheepskin Shampoo & Conditioner to clean and disinfect this Shear Comfort products Woolskin contains the natural fungicide and miticide..Tea Tree Oil, together with wool conditioning agents.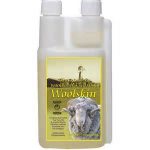 Washing should occur regularly to remove skin and dust particles etc. Washing will also disinfect the wool and reduce the chances of infection of open wounds. Clean up any spillage with a damp cloth before washing.
Use a Gentle or Wool cycle for slow limited agitation. This will reduce any felting of the wool.
Shear comfort products can be dried in the dryer using low heat and gentle agitation. Do not over-dry since wool performs best with 15% residual moisture.
Best care would be to Air- Dry. Products will last longer if not exposed to heat.