Shear Comfort Palm Protector

(SC115)
Soft Merino wool palm protection for people with protracted fingers. Wool protects the palm by reducing pressure and absorbing skin moisture. Held in place with a velcro attaching strap.
The thumb is placed through the designated hole, fingers then grasp the wool to simulate a "grab action". The velcro strap is folded over the back of the hand; being held in place by a velcro tab.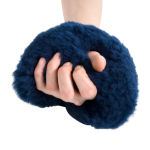 Made from 30mm Merino wool pile. All seams are outward sewn to reduce any pressure points.
Machine washable in Sheepskin Shampoo and Conditioner. Wash regularly to disinfect the Palm Protectors. Air dry.
Sold in pairs.