Cushion-It XD – Wheelchair & Seat Pad: 18″ x 22″

(M105XD)
Wheelchair/Seat comfort and protection can be drastically improved with the use of Pressure Smart XD1900..the new wool high pile density material that outperforms Medical Sheepskin. When pressure tested, the Cushion-It XD outperformed the Australian Medical Sheepskin…and they are easier to care for.
The Merino wool fibres, each acting like a tiny moisture absorbing spring,  reduce pressure, skin moisture and sheer–the 3 major causes of pressure sores, bed sores and decubitus ulcers.
Each pad- 18″ x 22″,  has 2 nylon straps that wrap around the seat or cushion , with hook and loop ends to keep them in place. Many people use one pad on the seat and another on the back of the chair.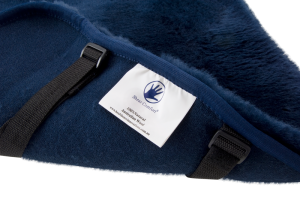 Care
Cushion-It seat pads are machine wash and machine dry- use the Wool Cycle in the washer with low heat and agitation in the dryer.
Wash in Woolskin- Sheepskin & Wool Conditioner and Disinfectant. Woolskin contains the natural fungicide and miticide- Tea Tree Oil plus wool conditioners. Do not over-dry, since wool does best with 15% residual moisture.
Wash the Cushion-It regularly for best care and a longer life. Guaranteed by Shear Comfort for up to 50 washes in Woolskin.