Pressure Care Assist XD ( M103XD)

A great innovation in pressure sore prevention!
The Shear Comfort® Pressure Care Assist XD1900 is a strip of Pressure Smart XD1900 wool that is usually used at the bottom of a bed to protect the feet and ankles from pressure sores. Held in place by linen flaps that can be tucked under the mattress to keep it in place. The Pressure Care Assist can also be used to protect the sacrum, shoulders or head.
When used at the foot of the bed, the Pressure Care AssistXD1900 allows for heel and foot protection with unrestricted foot movement. This feature offers a new level of freedom for people prone to foot problems. Mostly used by people with diabetes and poor circulation that are at risk of developing heel decubitus ulcers and dislike Heel Protectors.  A simple but very effective item with many possible uses by medical staff.
Waranteed for up to 50 washes as outlined in the Warranty document that accompanies this product.
Size: 65 x 20 cm= 26″ x 12″+ side flaps to wrap under the mattress

CARE:
This Shear Comfort product is machine washable in an approved Sheepskin Shampoo & Conditioner. We recommend that you use Woolskin: Sheepskin Shampoo & Conditioner to clean and disinfect this Shear Comfort products Woolskin contains the natural fungicide and miticide..Tea Tree Oil, together with wool conditioning agents.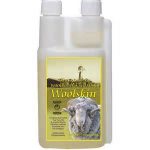 Washing should occur regularly to remove skin and dust particles etc. Washing will also disinfect the wool and reduce the chances of infection of open wounds. Clean up any spillage with a damp cloth before washing.
Use a Gentle or Wool cycle for slow limited agitation. This will reduce any felting of the wool.
Shear comfort products can be dried in the dryer using low heat and gentle agitation. Do not over-dry since wool performs best with 15% residual moisture.
Best care would be to Air- Dry. Products will last longer if not exposed to heat.